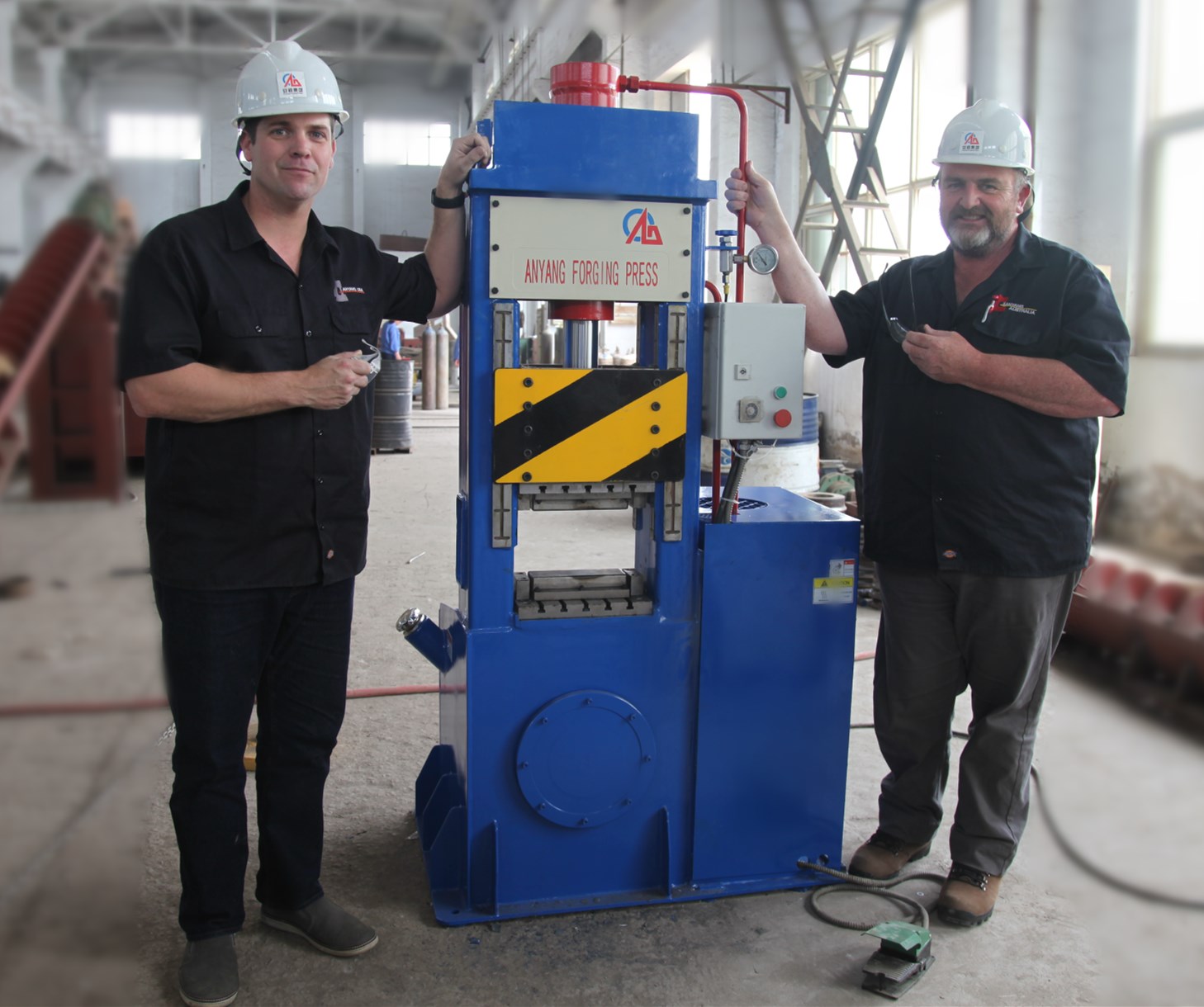 Blacksmith hydraulic forging press introduction:
Anyang forging press has been making forging machine since 1956. The forging press sizes have ranged from 800 Ton to 8000 Ton and are found in many automotive and industrial forging companies around the world. In 2017, we made the decision to utilize their knowledge of presses and machining capability to make a series of presses aimed at the blacksmith, bladesmith, and the small industrial sector. Sizes will range from 25 Ton (Metric) or 27.5 Ton (Imperial) to a 50, 75, and 100 Ton model.
Advantages of the Anyang hydraulic press are:
​High Speed.
Quiet operation.
Enclosed hydraulics, steel hydraulic lines, no rubber hoses to break or catch fire. A safer press.
Large "T" slotted upper and lower plattens. Easier to build specialized tooling.
Timer to minimize up travel time for faster, efficient forging.
Long 30mm stroke.
Side access for pressing longer pieces.
Engineering and machining the guides is important. The Anyang guide system is a scaled down version of their 1000+ Ton industrial presses. The 25T has 93 sq. inches of guide surface area. The 50T has 143 sq. inches of surface area. Large surface area, shimmable and replaceable wear strips make this press unique to the industry. The guides are precision machined on large milling machines. This hi-quality machining is not available on other presses on the market.
Heavy duty H frame industrial design. No deflection found in many "C" frame presses. Extra large, filtered oil reservoir for cooler and cleaner (long life) operation.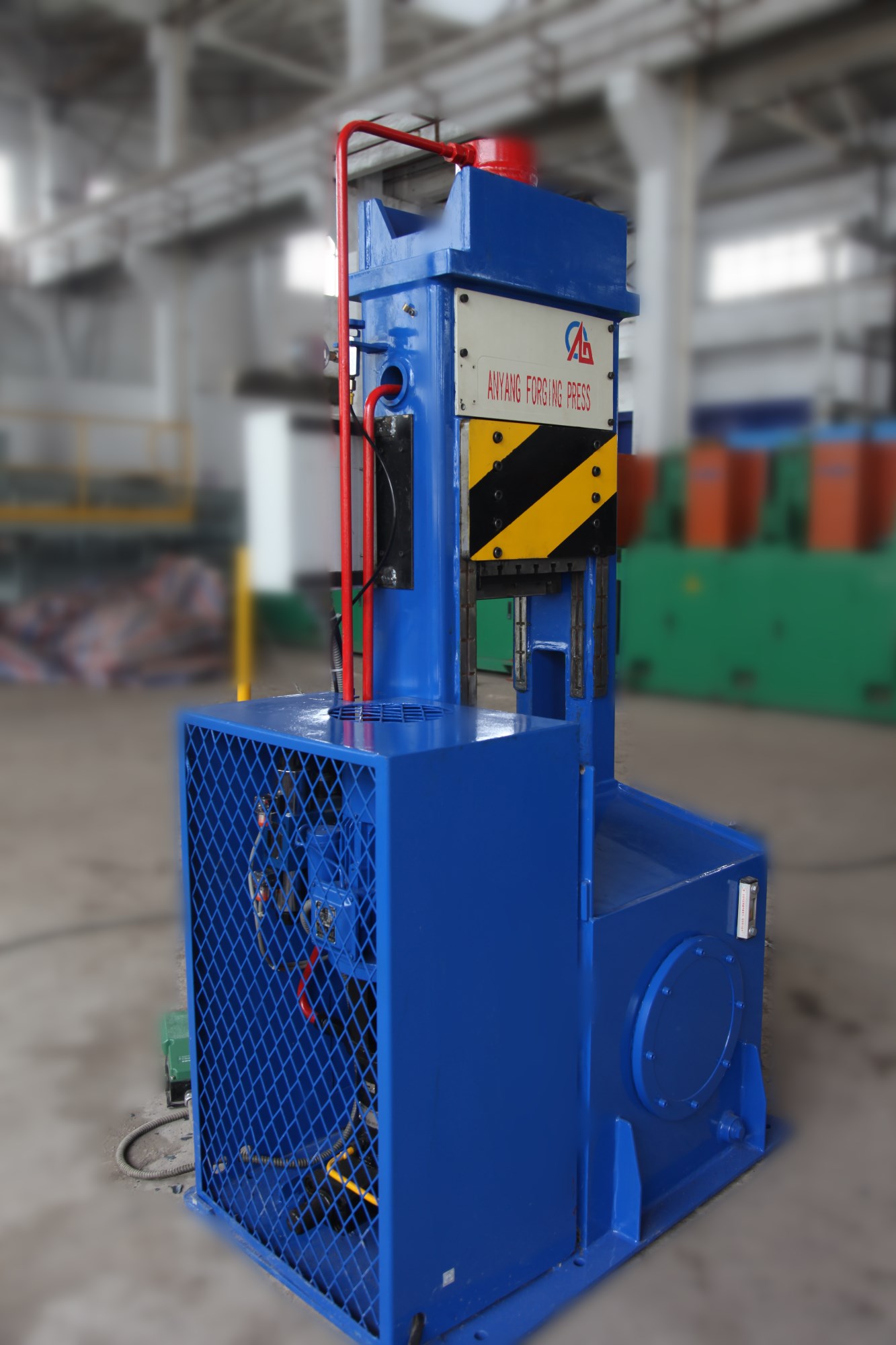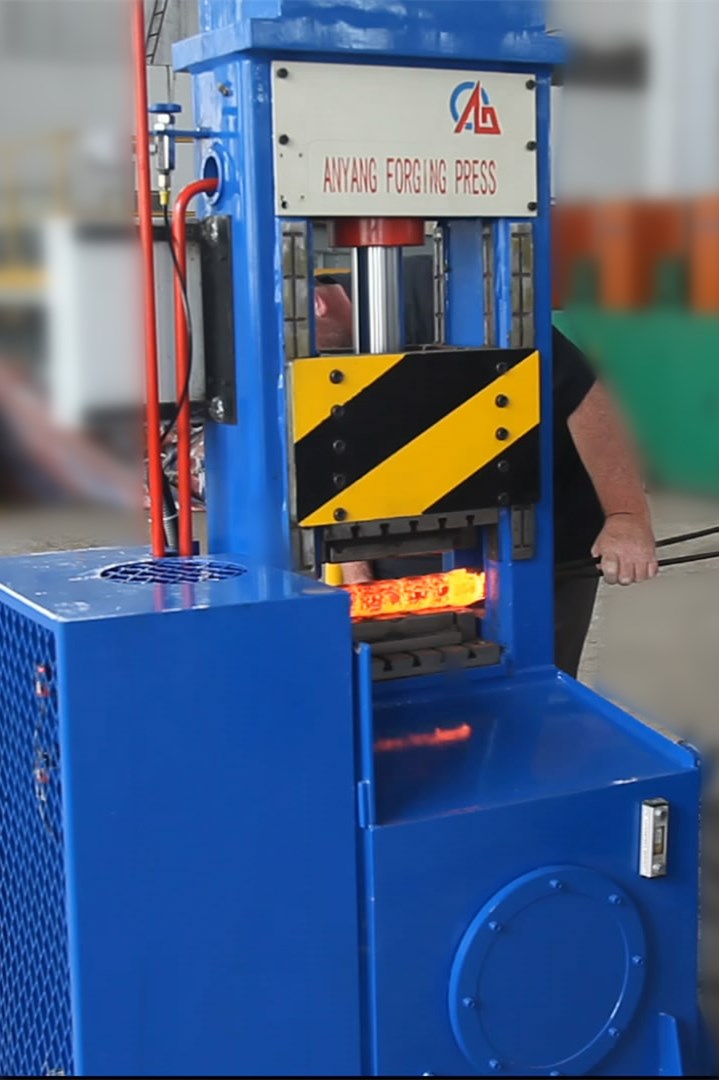 steel hydraulic lines Side access for pressing longer pieces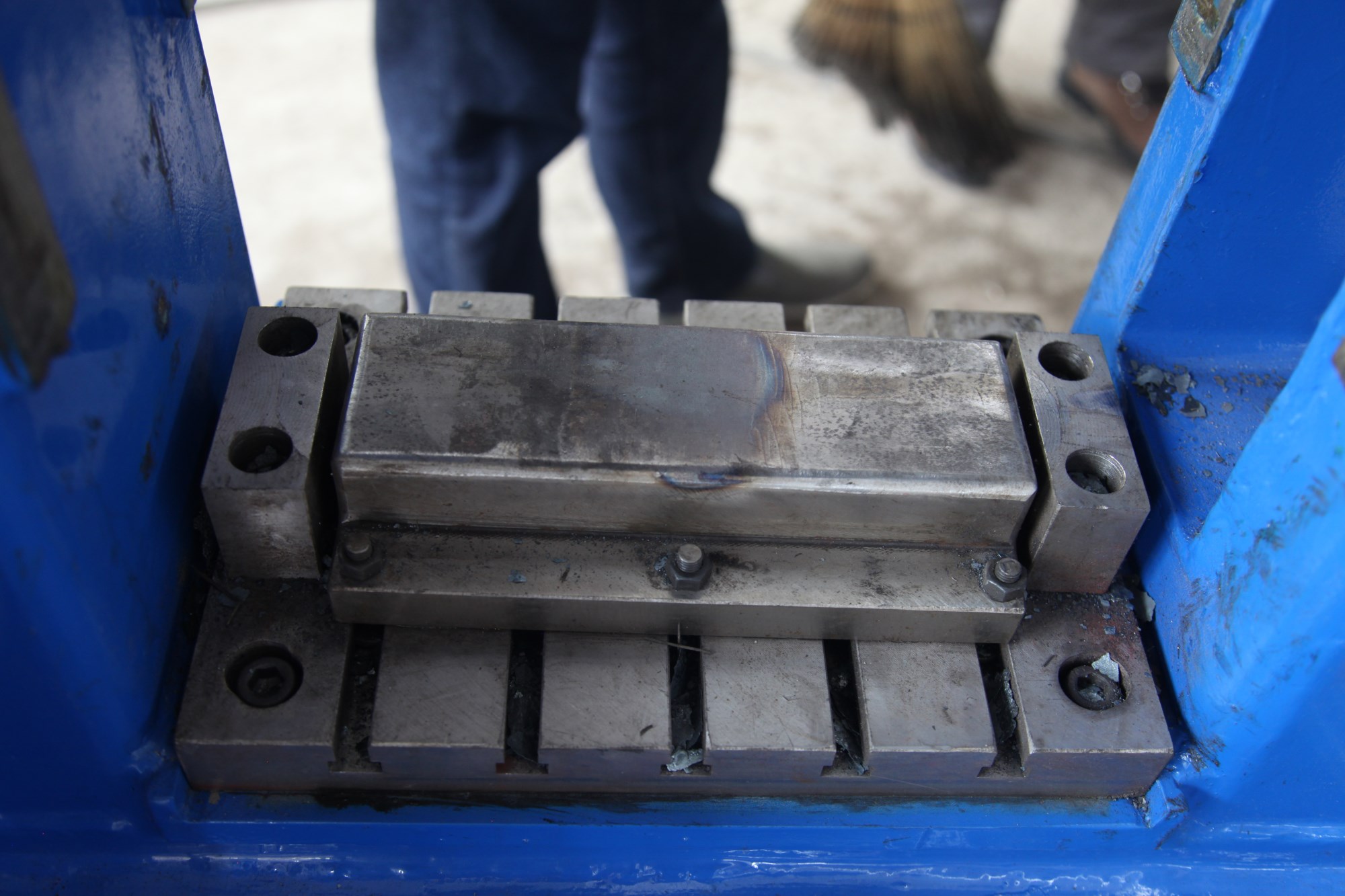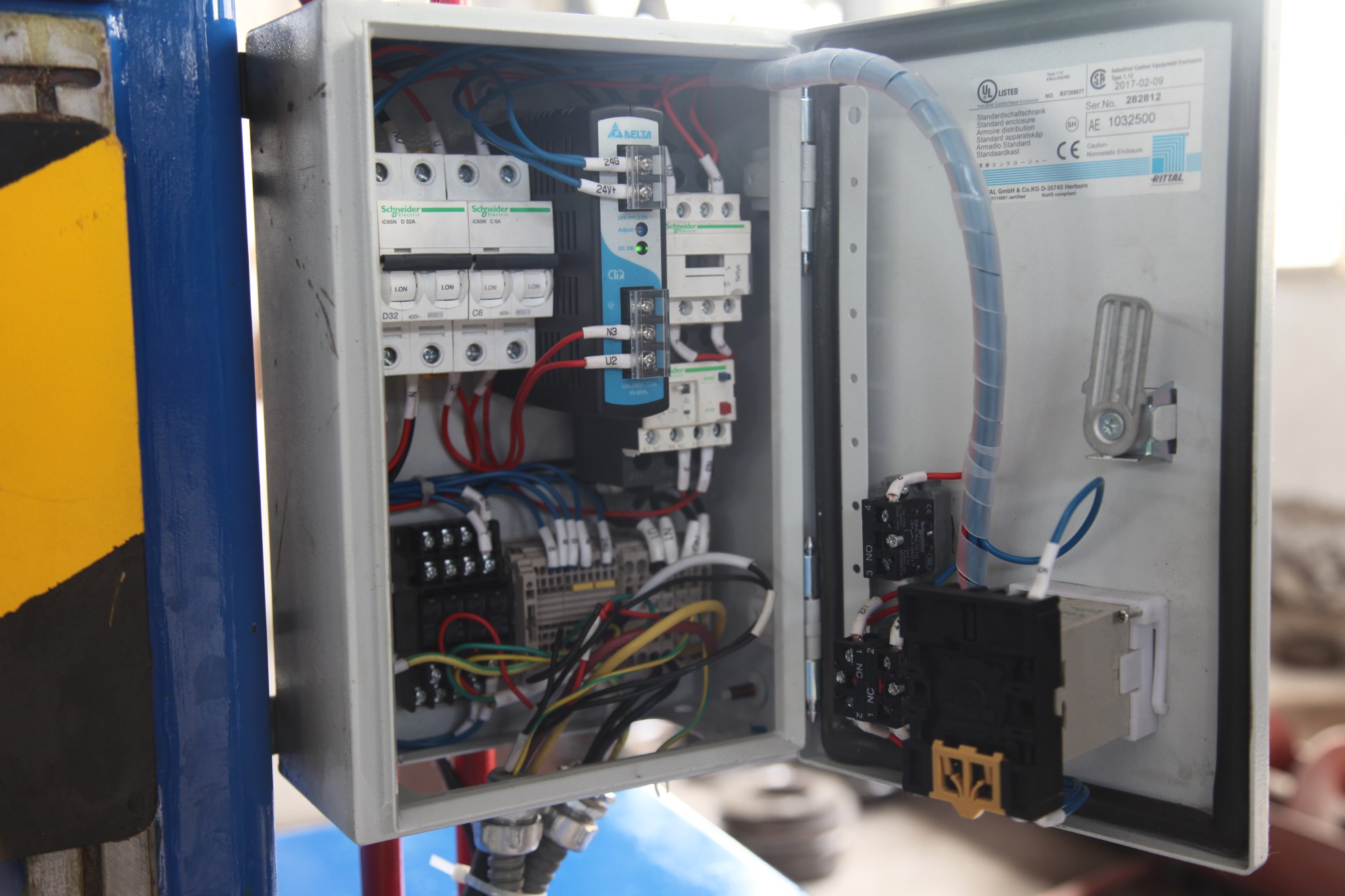 "T" slotted upper and lower platten Schneider eletronic component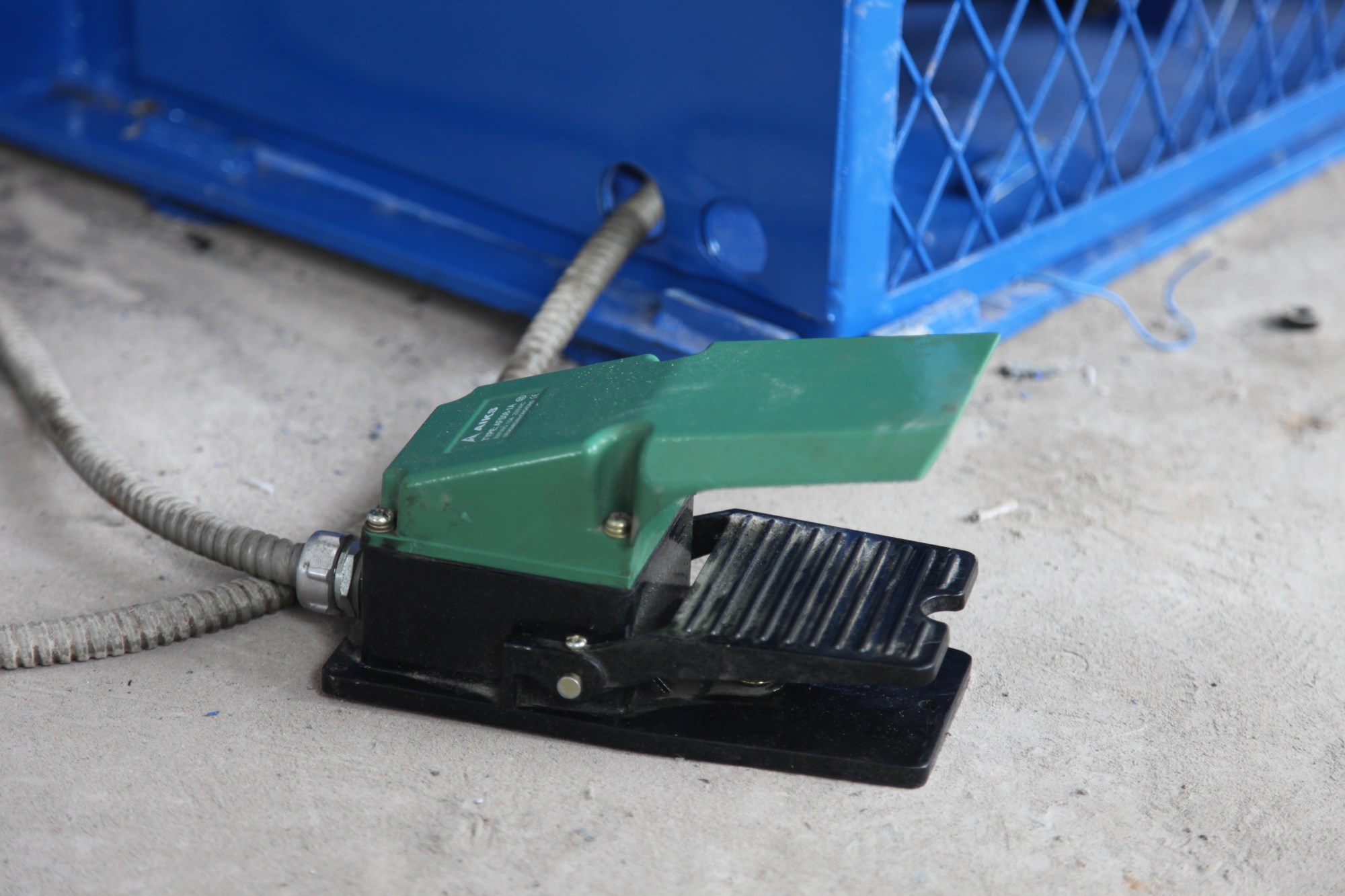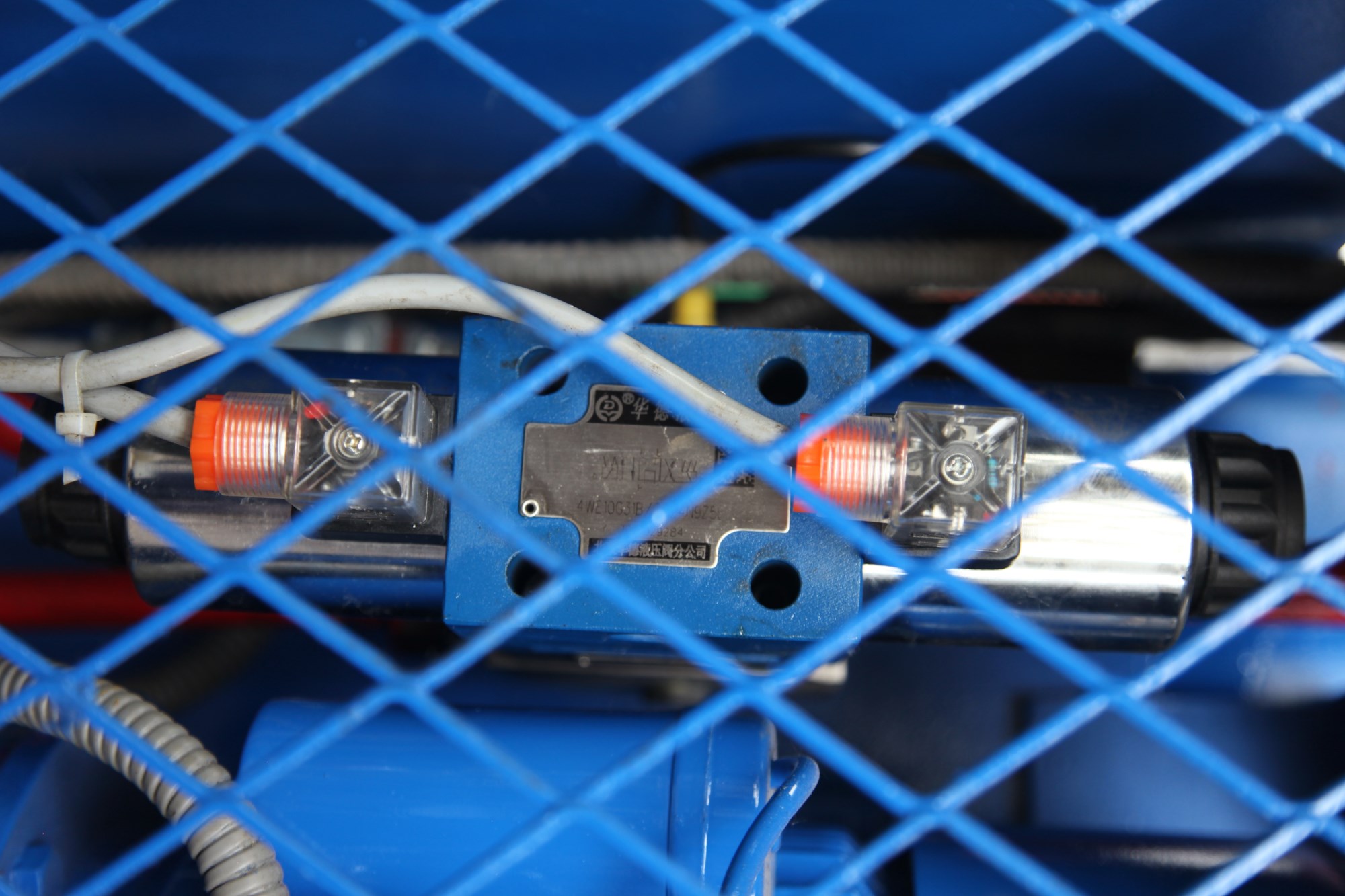 Responsive foot peddle Solenoid valve controlling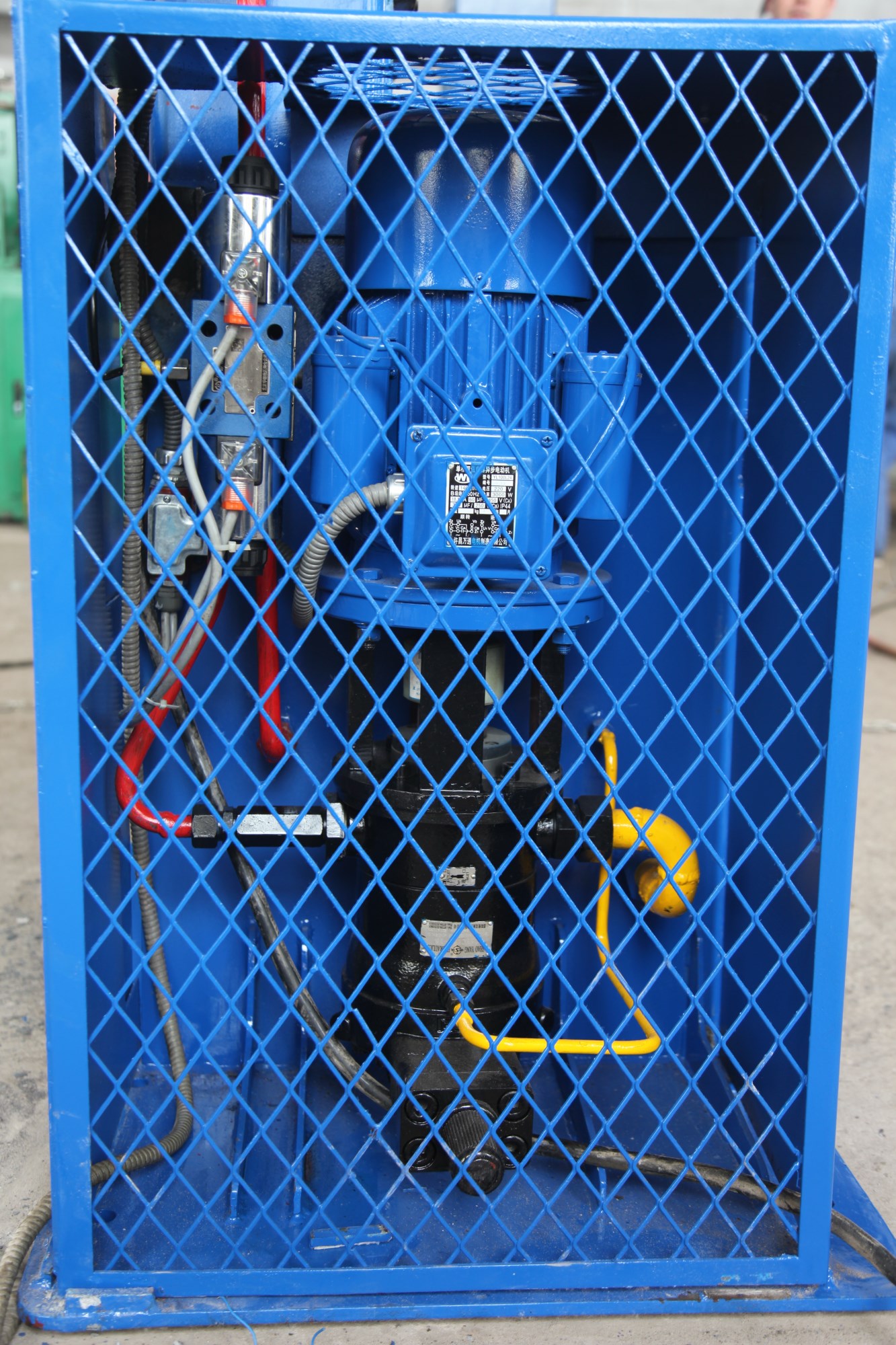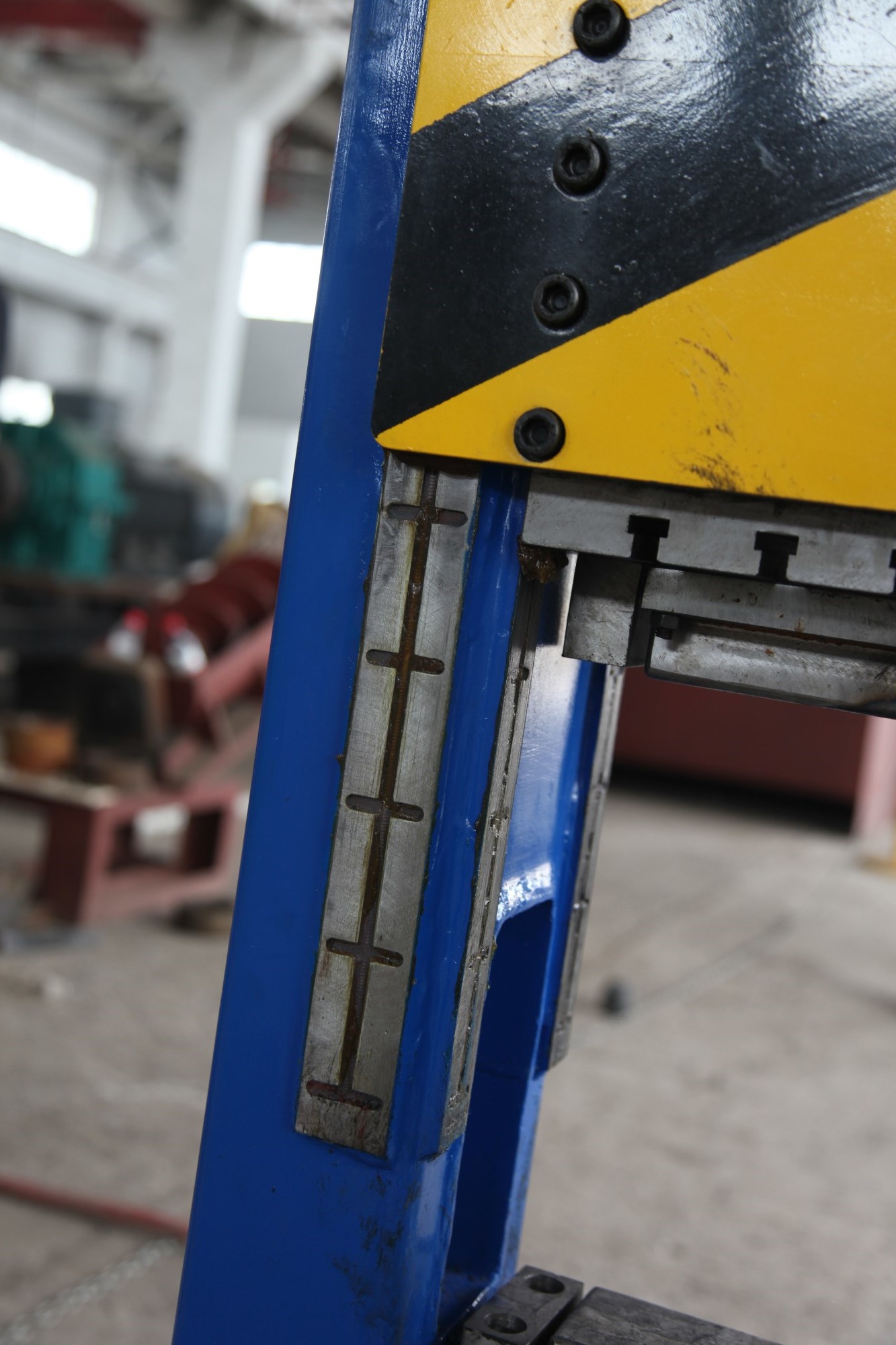 motor and pump rigid tube connecting guide plate grease lubrication
dial indicator test anyang blacksmith hydraulic press Stroke Accuracy
Anyang Blacksmith Hydaulic Press Specifications
item
Y04-25
Y04-50
Y04-150 (CNC)
Normal force
25 T
50 T
150 T
Working speed
≤20mm/s
≤20mm/s
≤20mm/s
Stroke speed
down
≥40mm/s
≥50mm/s
≥150mm/s
up
≥60mm/s
≥55mm/s
≥100mm/s
Maximum working area:
(L × H)
300mm×400mm
380mm×400mm
600mm×600mm
Dimension of worktable :
(L × W)
300mm×200mm
380mm×300mm
600mm×400mm
worktable height
900±20mm
900±20mm
700±20mm
Hydraulic Oil Volume
(Anti-wear hydraulic oil YB-N46)
240L
450L
450L
Motor Power
4KW
7.5KW
30KW
Outsize
(L×W×H)

1200mm×

765mm×

2080mm

1500mm×

1110mm×

2140mm

2850mm×

1600mm×

4080mm

Weight
890KG
1900KG
9150KG
Blacksmtih Hydraulic Press Forging Videos
Mr.James and Mr.Bruce test the 25T Press
25 Ton hydraulic press do upsetting test
25T Press Punch Hole on Hot Piece
25 Ton Hydraulic Press Working Video
Anyang Blacksmith Hydraulic Press Dealers List:
| | | | | |
| --- | --- | --- | --- | --- |
| Market Area | Contact Person | Email | Website | Location |
| USA, Canada, Mexico | James Johnson | USAforging@gmail.com | http://www.anyangusa.net | 2955 CR 1370 Alvord, TX, USA 76225 |
| Australia, New Zeeland | Bruce Beamish | bruce@anyangaustralia.com.au | https://www.anyangaustralia.com.au | Unit 4&5 51-53 Della Torre Road, Moe, 3825 Victoria |
| UK | ​John Nicholson | sales@masseyforging.com | http://www.anyang.co.uk | Hyde, Cheshire, UK |
| Germany, Belgium | Johanes Angele | info@angele.de | http://www.angele-shop.com/ | |
| Sweden | Stefan J. Emet | info@orsajarn.se | https://www.orsajarn.se/category/anyang-lufthammare | Jämt Annas Väg 2 79432 Orsa Sverige |
| Czech | Gabriela Řeháková | gabriela@zamecnictvirehak.cz | http://www.zamecnictvirehak.cz | Volduchy 402, 338 22 Volduchy, Czech |
Anyang have dealers in many of countries, they will supply excellent local service for anyang blacksmtih hydraulic press customers, if there is anyone from above countries/area interest one press, please contact with them, otherwith contact us directly at info@chinesehammers.com