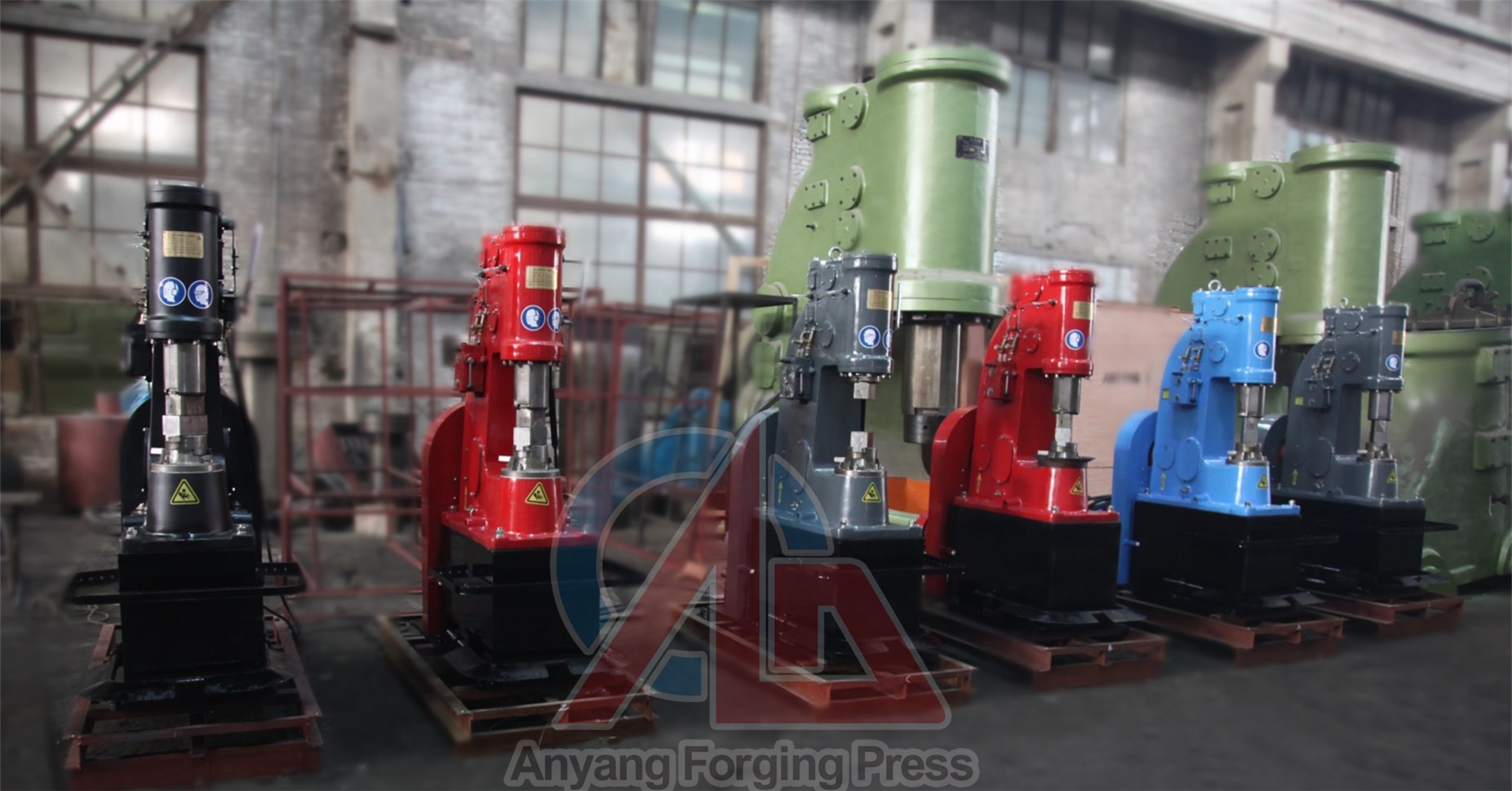 Anyang power hammer introduction:
Anyang blacksmith power hammers (from 9kg to 110kg) are self contained pneumatic power hammers. The design is based on the time proved designs of the old European hammers many which are still in use today. With a self contained power hammer, you require no external air supply or high pressure hoses.
The frames are cast iron, like the old Nazel, Beche, and Massey hammers. Cast iron is more expensive to manufacture compared to fabricated hammers but they are heavier, do not flex over time, and have a lifetime warranty on the frame.
Features:
Anyang pneumatic forging hammer do not need out-side air compressor. will compress air inside with motor driven flywheel.
The cast Iron Frame will never flex or warp. Compare the weights of different hammers available and you will find that the Anyang is amongst the heaviest. Cast iron is much more expensive to manufacture but allows the designer to put the mass and strength where it is required.
Lifetime frame warranty , one year on wearing parts against defects, one year on electrical components against defects.
External drive belts. Design keeps the belts dry and away from oil. This eliminates belt slippage and extends belt life. Replacing the belts is quick and easy.
The air ports are cast into the hammer. This eliminates internal rubber hoses and fittings.
Low maintenance. Anyang power hammer Automatic and fully adjustable oil system. The two grease zerks are easy to reach. Large tapered roller bearings in crank case for long trouble free life.
Simplistic design. Only 3 basic sections (crank case, compressor piston, ram). Hammers can be disassembled, and if needed rebuilt in a day or less.
Very controllable, making the use of tooling easy. The operator can change tooling or material thicknesses without adjusting the ram or stroke.
Easy to install- once the hammer is uncrated installation takes about 30-45 minutes.
Blacksmith power hammer ( C41-9, C41-15,C41-25,C41-40,C41-55,C41-75,C41-110 ) one piece which makes for easy installation.
Anyang power hammer good for making work handling tools for forging operation, forged hunting knives, scissors, general operational tools, farm implements and iron art parts for house gate & fence.
All anyang power hammers have got CE. The design is safty.

Schneider motor starter Schneider emergency button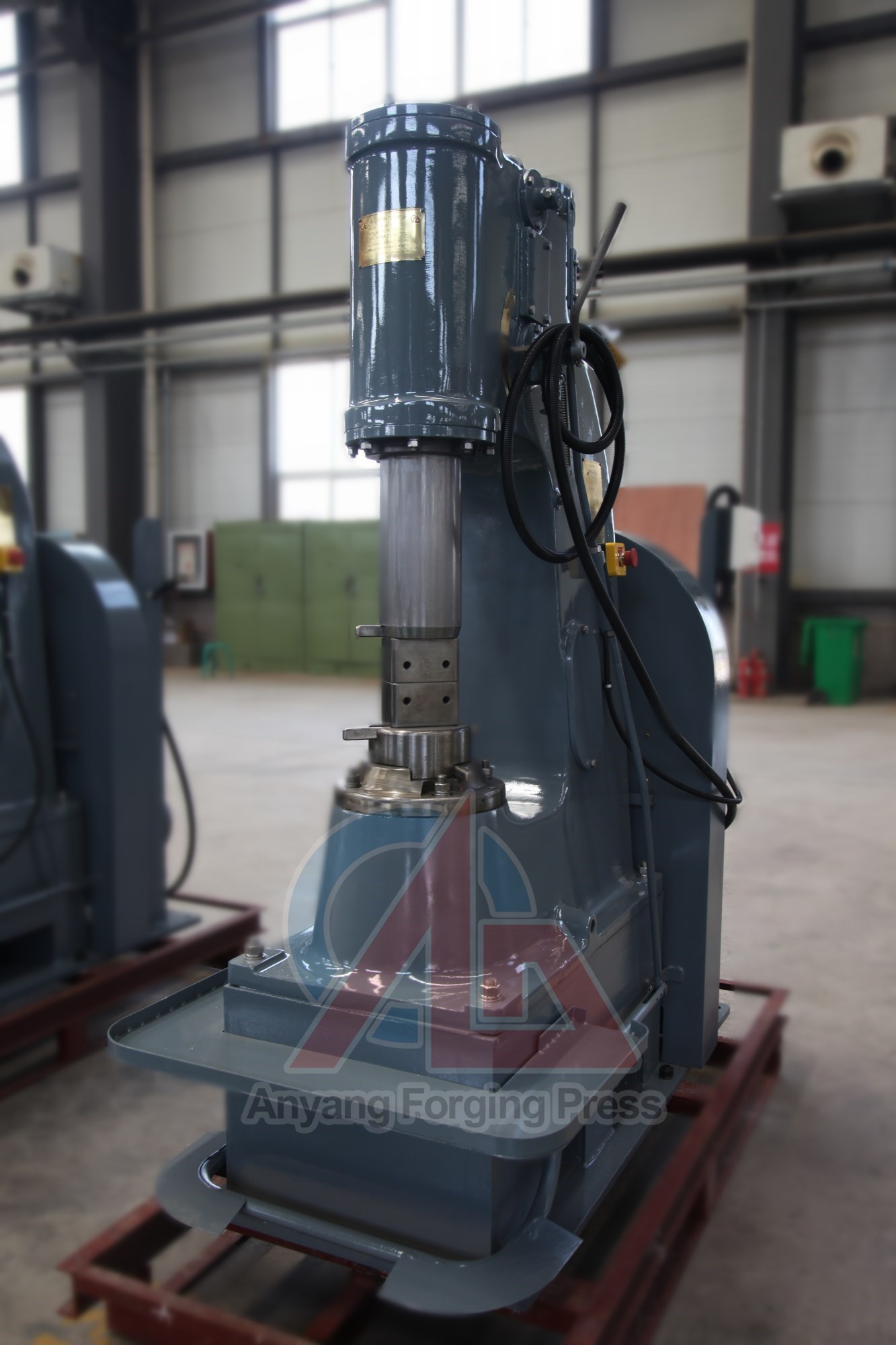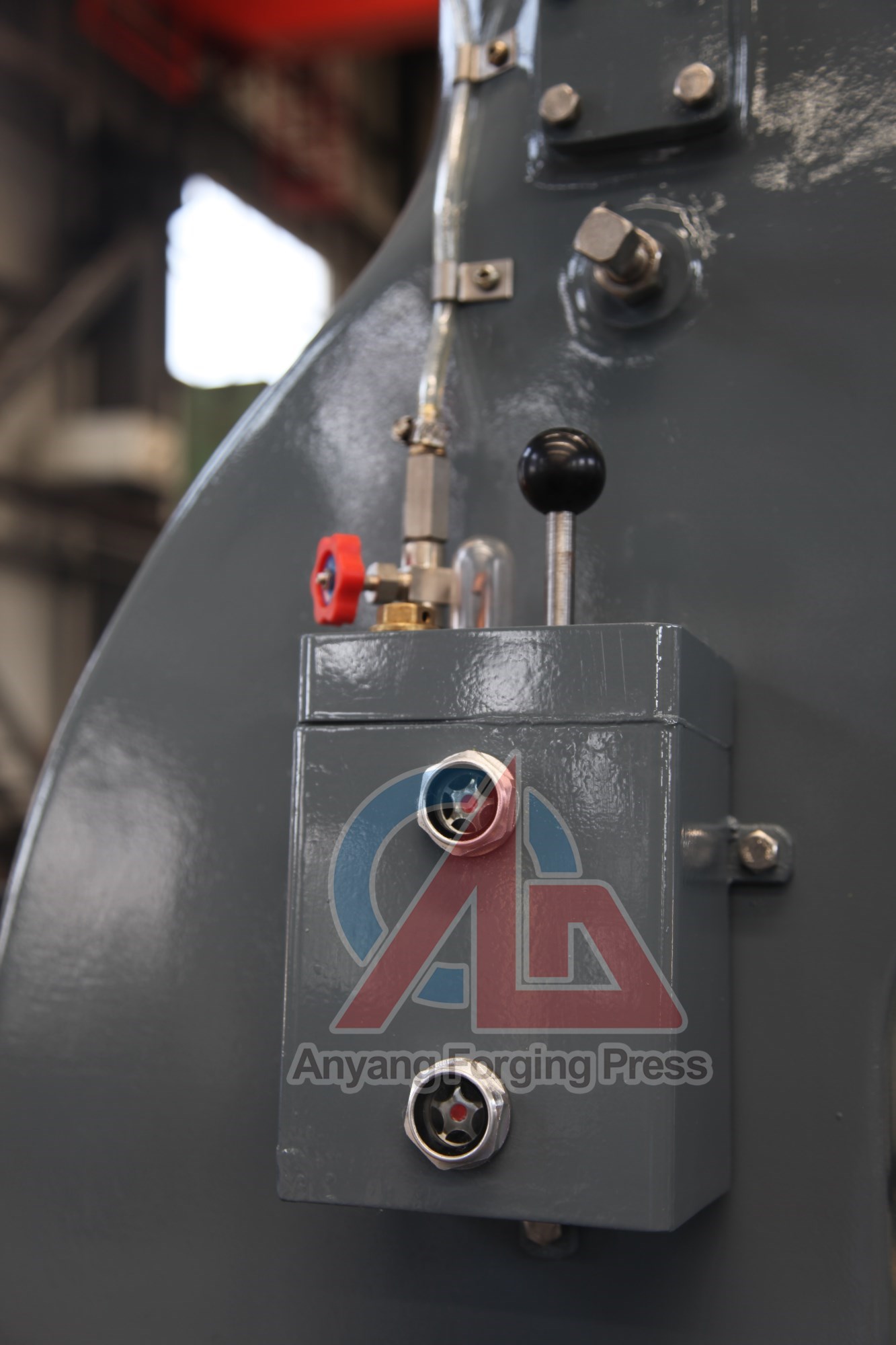 All the hammers with steel base and pedal guider copper oil valve make sure the oil supply correctly
New design (L type) power hammer introduction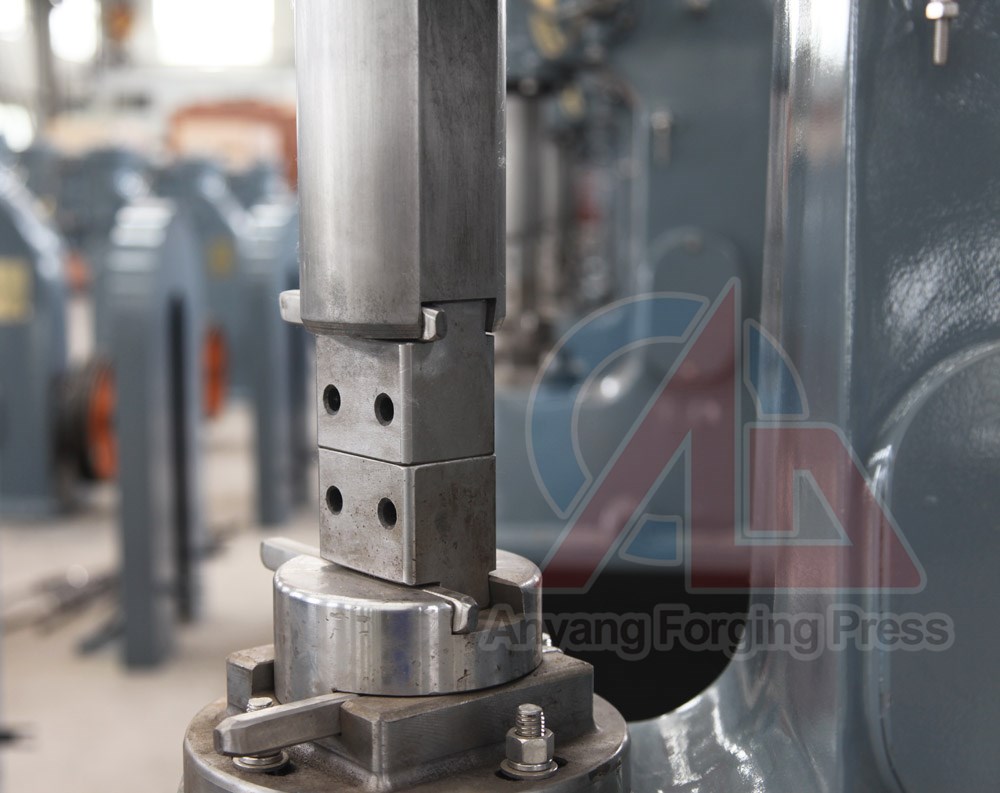 The new Anyang L type besides all above features, also have heavier frame and ram design where the key and die does not retract into the cylinder making it easy to change dies and use tooling. You can forge heavy stock and immediately switch to thin light stock with no adjustments. With a self contained hammer, you have tremendous forging power (a combination of ram weight, downward air force and velocity) plus precise control.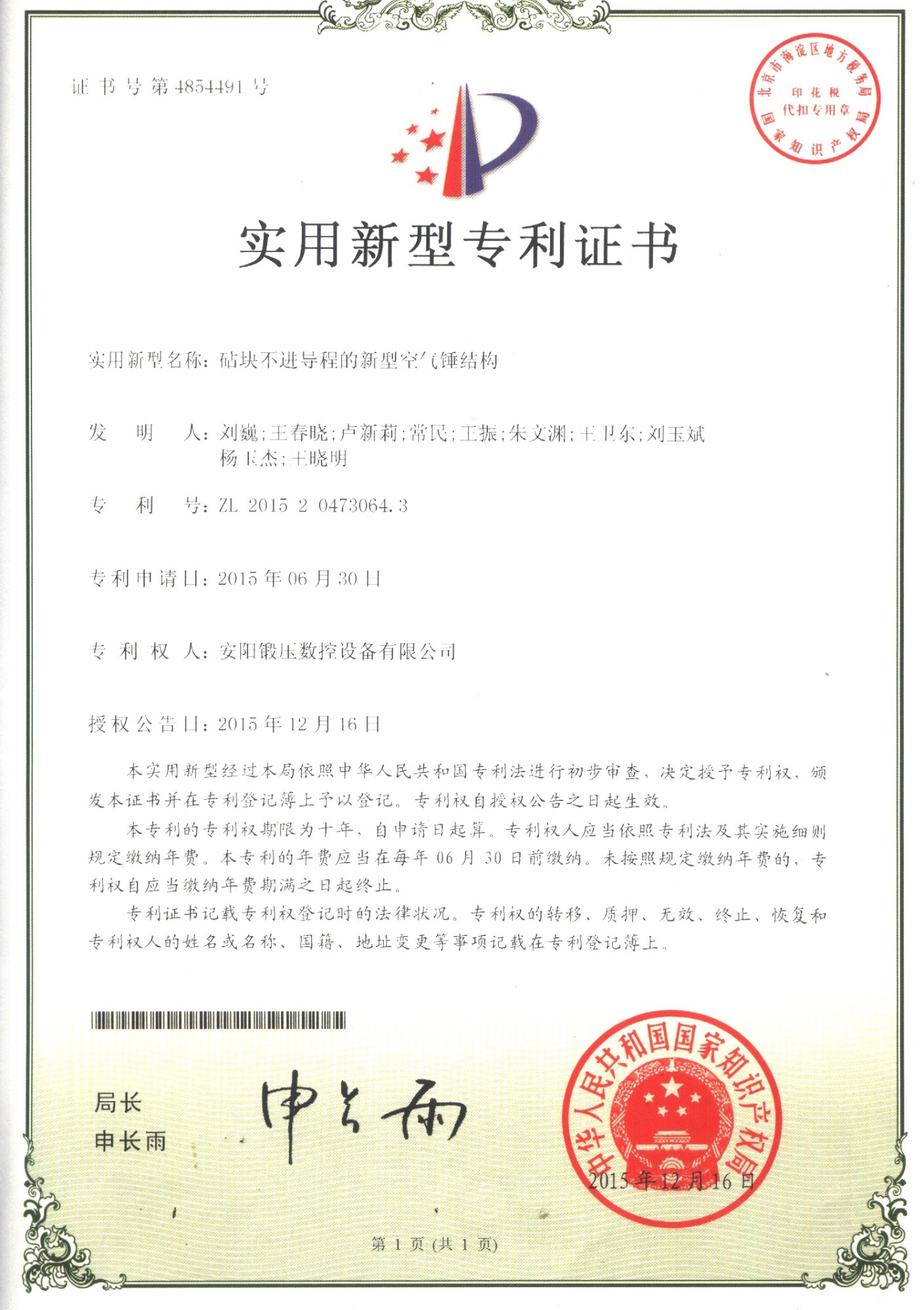 Anyang L type power hammer is patented product, All Rights Reserved.
Anyang power hammer series forging dies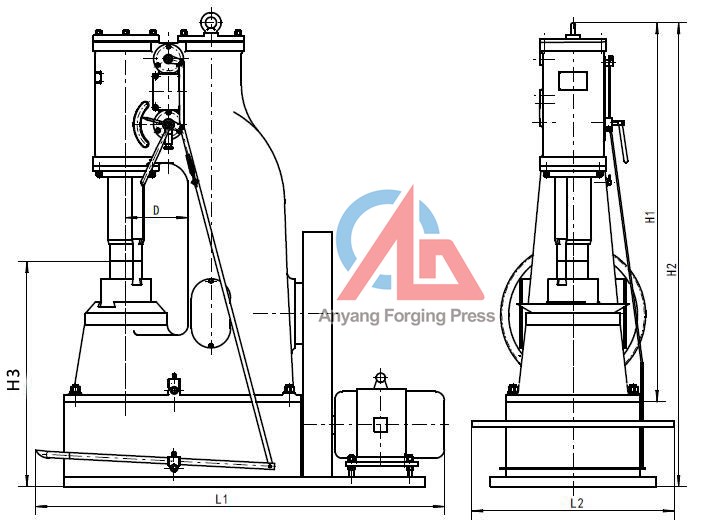 Anyang Power Hammer parameters
Model

C41-9

C41-15L

C41-25L

C41-40L

C41-55L

C41-75L

C41-110L

Weight of falling parts(kg)

9

15

25

40

55

75

110

Hitting energy(kj)

0.09

0.16

0.27

0.53

0.7

1

1.98

Hitting frequency(min-1)

245

300

250

245

230

210

180

Height of working area(mm)

135

160

240

245

270

297

355

D - Depth of throat(mm)

120

170

235

270

300

330

400

Working

Piece

Square

25×25

30×30

40×40

52×52

60×60

65×65

110×110

Round (mm)

Φ30

Φ35

Φ48

Φ68

Φ75

Φ85

Φ120

Power

(kw)
1.5

2.2

3

4

5.5

7.5

15

Weight

Include Base

450

540

1100

1390

1700

2640

3300

L1 (mm)

1080
1180
1470
1650

1860

1620
1910

L2 (mm)

420
650
740
800
880
930
1070
H1 (mm)
850
1025
1330
1500
1750
2220
2382
H2 (mm)
1450
1575
1835
1920
2100
H3 (mm)
920
920
925
920
965
915
917
PS: L type power hammer the tup die will not retract in to the cylinder, and the throat depth is deeper.
Power hammer forging videos
L type power hammer introduced and operated by Ms.Denise Axelsen, Mr.Bruce Beamish and Mr.James R.Johnson
Mr.James R.Johnson introduce Anyang hammer features.
Petrol engine drive anyang 15kg power hammer in Australia
Alec Steele Test Run Anyang 75kg Power Hammer in His New Shop, Montana, USA
Power hammer manufacture pictures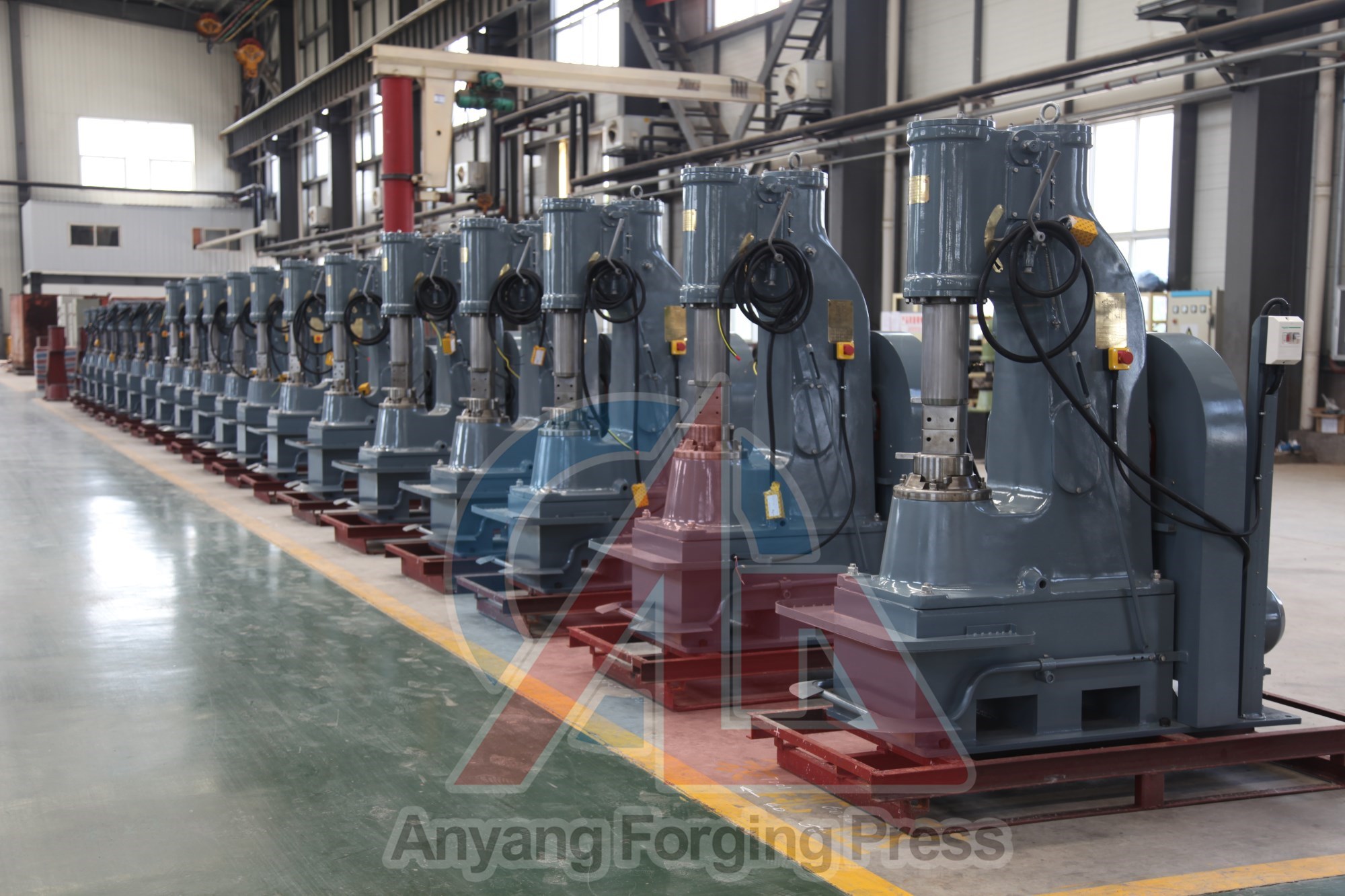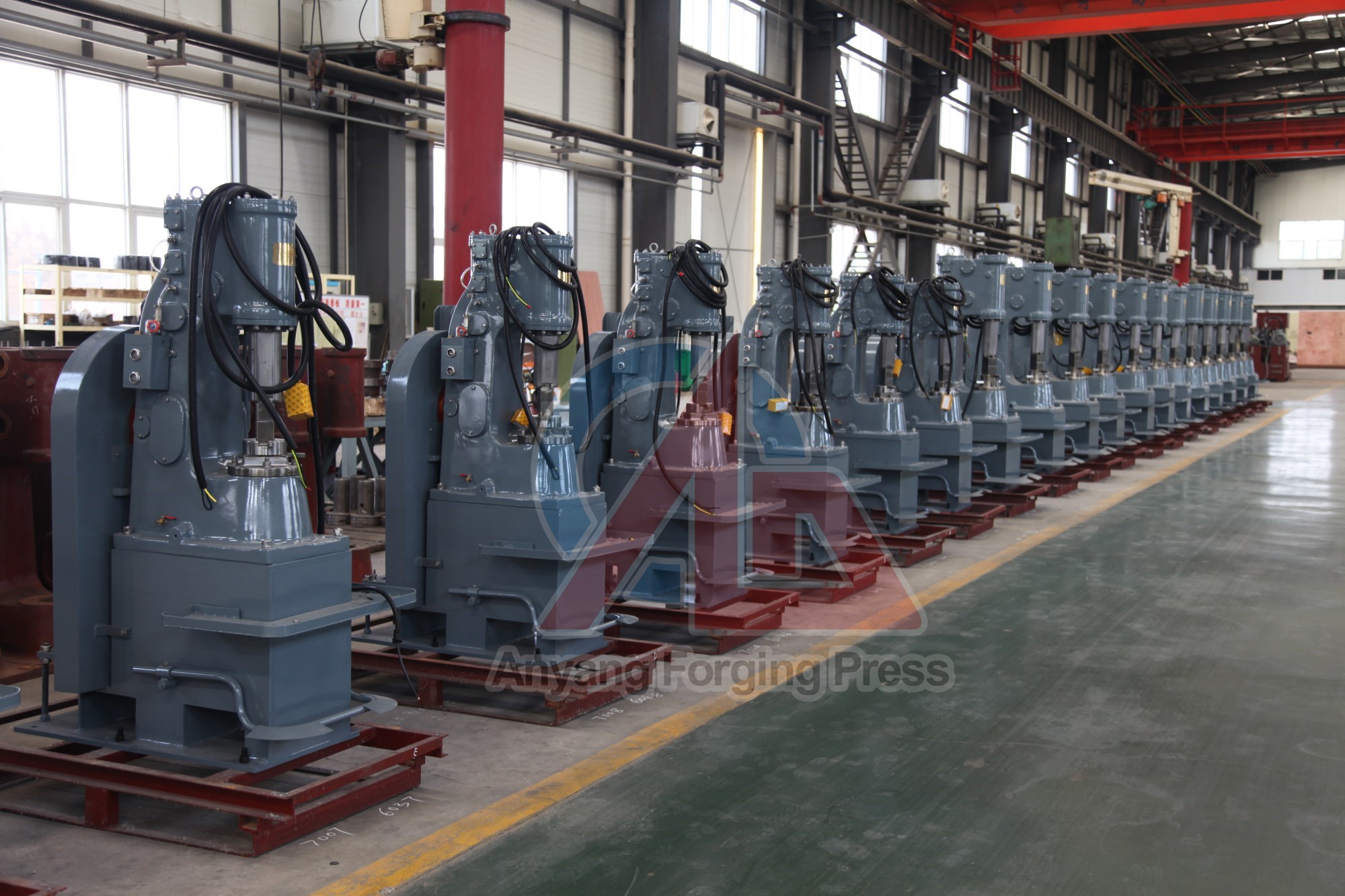 Gray power hammers for North America dealer - www.anyangusa.net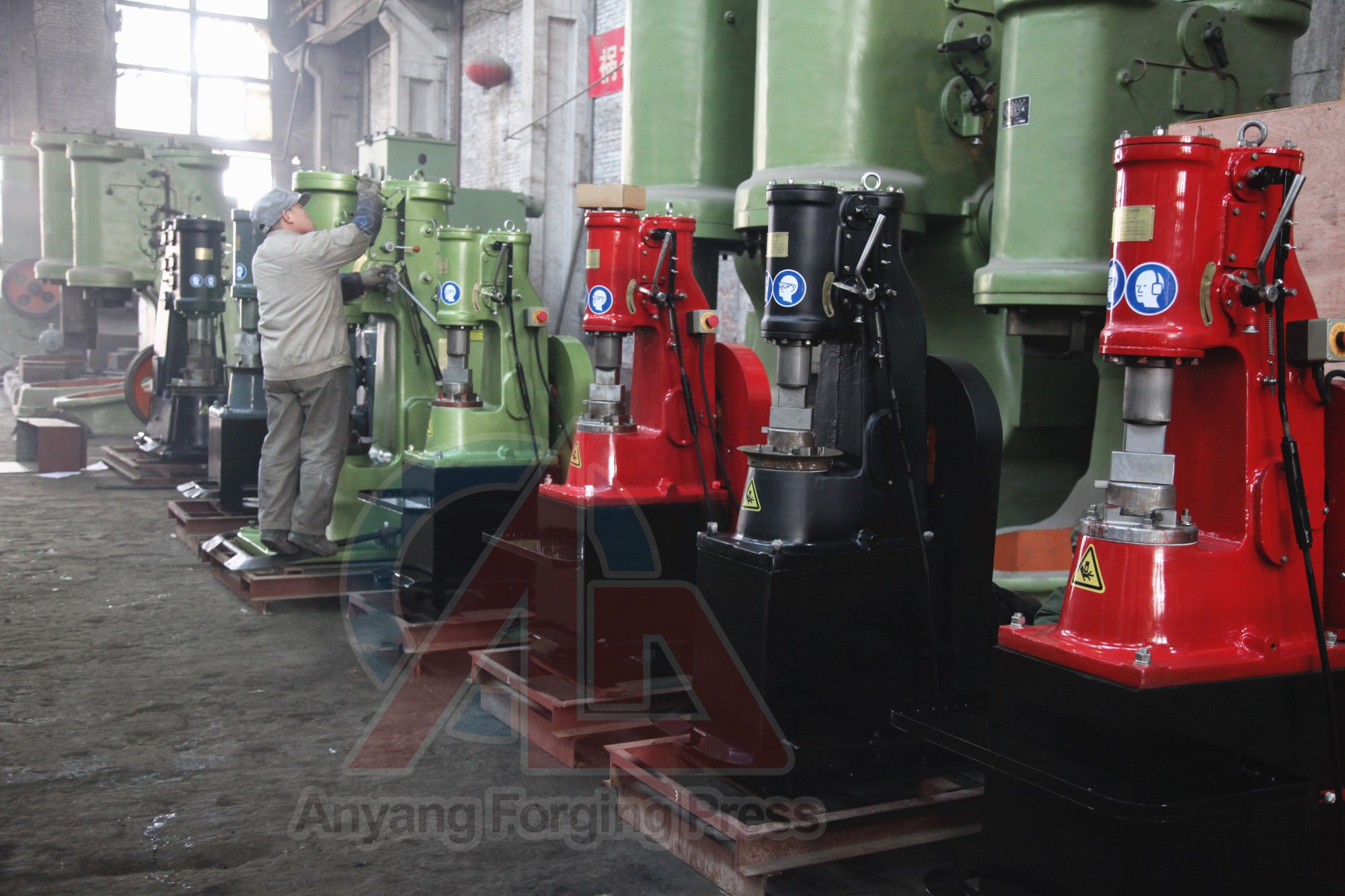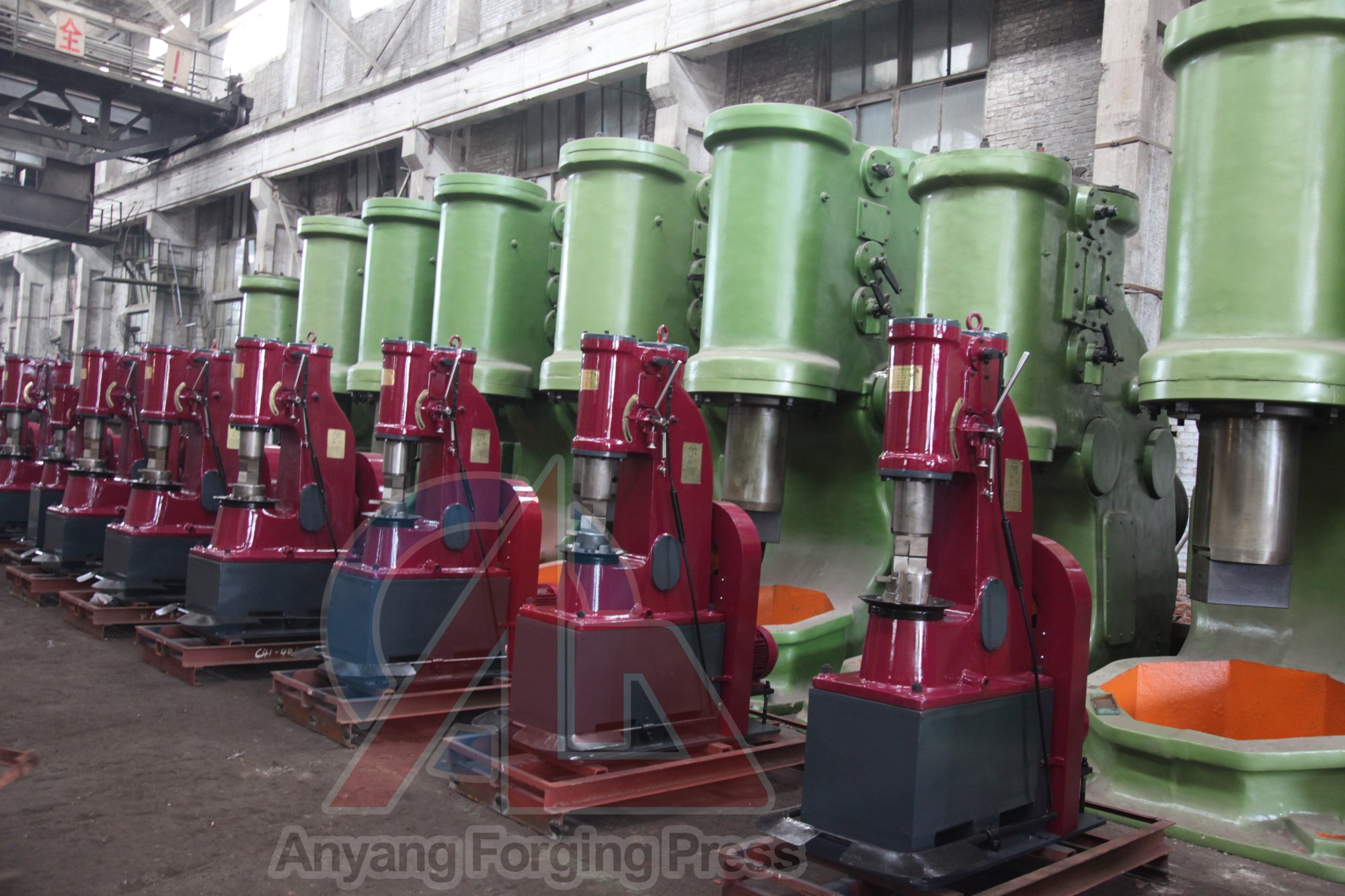 Power hammers for Australia dealer- www.anyangaustralia.com.au Power hammers for Germany dealer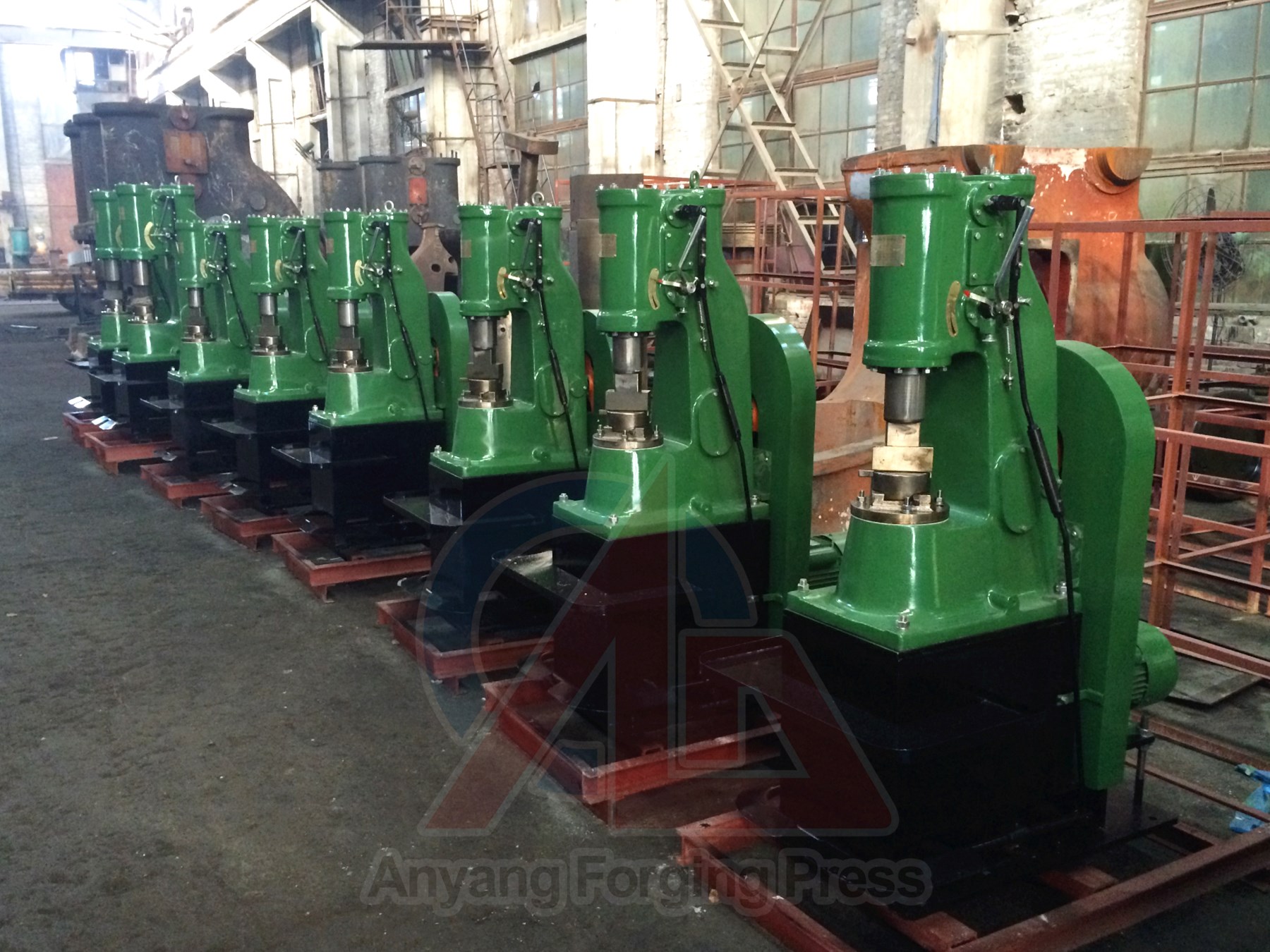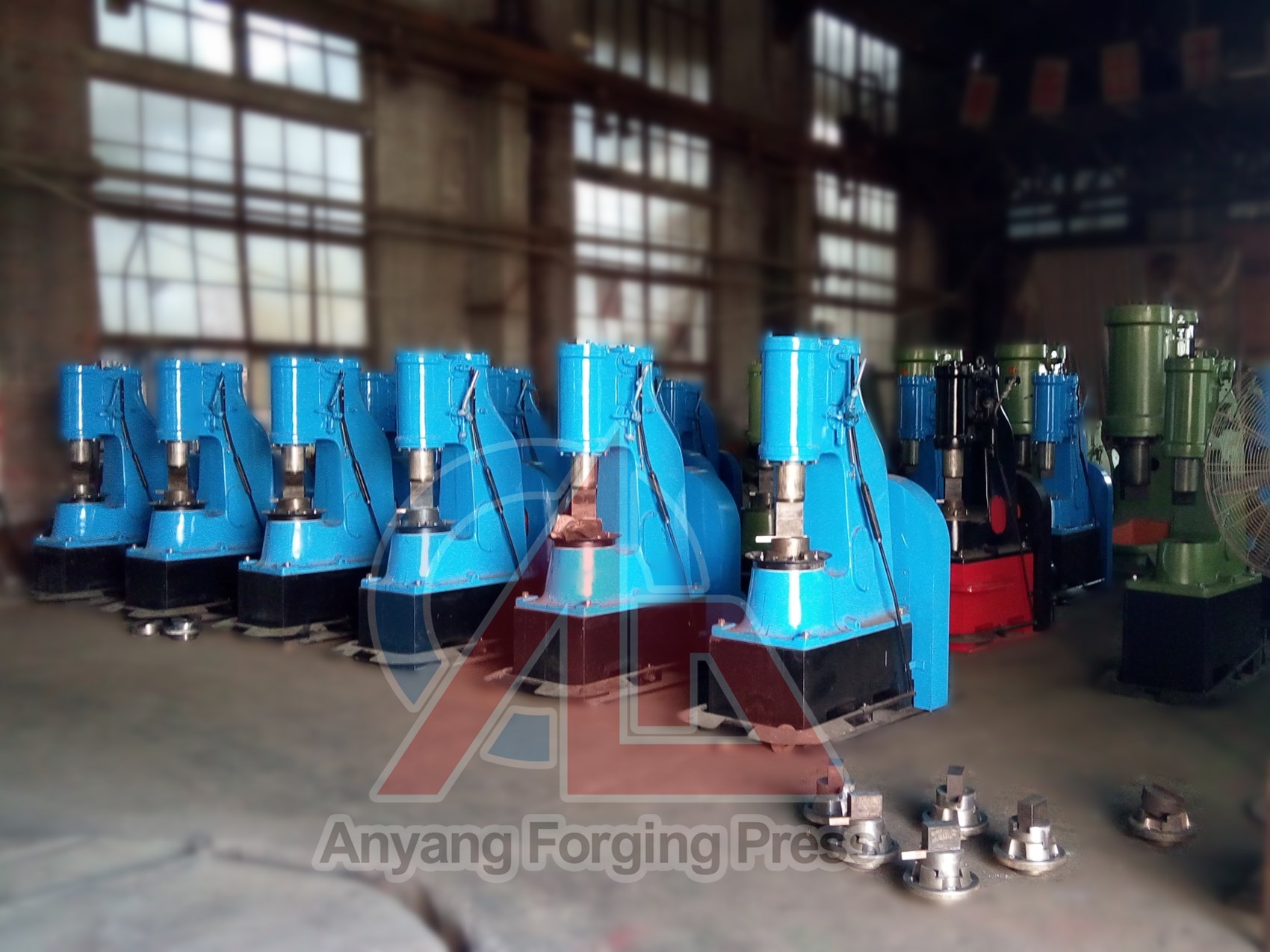 Power hammers for UK dealer Power hammers for France dealer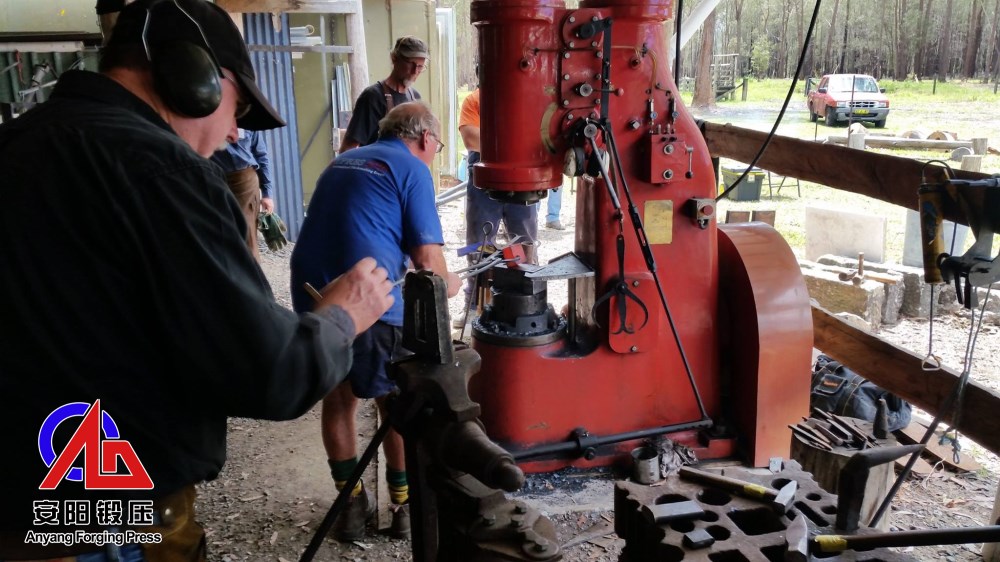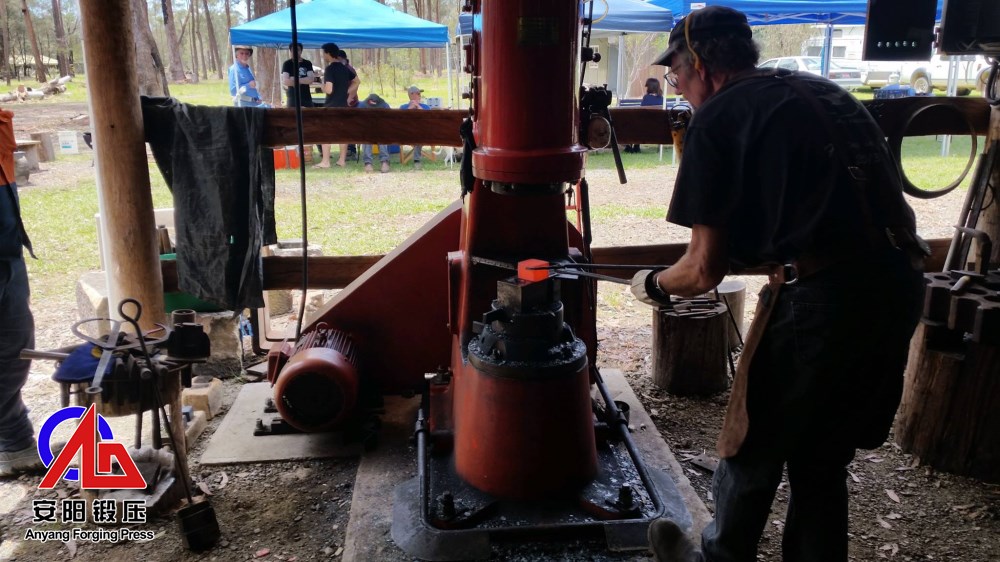 Anyang 75kg power hammer working in Australia Customer
Anyang Power Hammer Dealers List:
| | | | | |
| --- | --- | --- | --- | --- |
| Market Area | Contact Person | Email | Website | Location |
| USA, Canada, Mexico | James Johnson | USAforging@gmail.com | http://www.anyangusa.net | 2955 CR 1370 Alvord, TX, USA 76225 |
| Australia, New Zeeland | Bruce Beamish | bruce@anyangaustralia.com.au | https://www.anyangaustralia.com.au | Unit 4&5 51-53 Della Torre Road, Moe, 3825 Victoria |
| UK | ​John Nicholson | sales@masseyforging.com | http://www.anyang.co.uk | Hyde, Cheshire, UK |
| Germany, Belgium | Johanes Angele | info@angele.de | http://www.angele-shop.com/ | |
| Sweden | Stefan J. Emet | info@orsajarn.se | https://www.orsajarn.se/category/anyang-lufthammare | Jämt Annas Väg 2 79432 Orsa Sverige |
| Czech | Gabriela Řeháková | gabriela@zamecnictvirehak.cz | http://www.zamecnictvirehak.cz | Volduchy 402, 338 22 Volduchy, Czech |
Anyang have dealers in many of countries, they will supply excellent local service for anyang hammer customers, if there is anyone from above countries/area interest one hammer, please contact with them, otherwith contact us directly at info@chinesehammers.com